CONTROLLED FURNACE HEAT-UP & EXPANSION CONTROL
RAPID CULLET FILLING
HIGH SPEED DRAINING
CONTROLLED FURNACE COOL DOWN & CONTRACTION CONTROL
RAPID FURNACE COOL DOWN
HOT/COLD DRILLING FOR BOOSTER, T/C, BUBBLER INSTALLATION
THERMAL DECONGESTION OF REGENERATOR
FULL TURNKEY OPERATIONS ON GLASS TO GLASS PROJECTS
FURNACE INSPECTION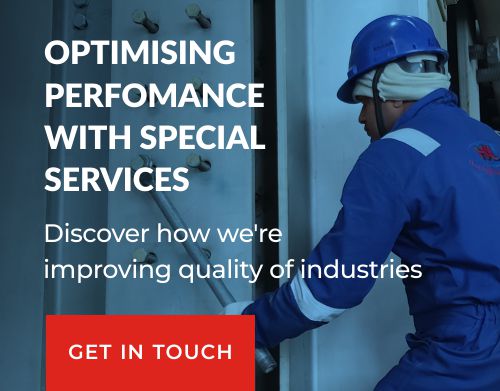 RAPID CULLET FILLING
Once the pre-heating process is done, it is imperative the working temperature is re-stablished as quickly as possible. To do so, the furnace is charged with cullet such that it is able to impart a rapid glass melting rate, without allowing for the sudden cooling of any part of the furnace refractory.
By achieving the highest ratio of surface area to unit weight, swift filling requires spreading the cullet over as large an area of the melter hearth as possible, and should commence from 1350°C. A melting rate of 50 tons/hr on float furnaces can be easily attained, depending on the size and type of furnace.
We also employ the Vibrating Screen, Wet/Hot Cullet filling system - this enables us to filter dust particles and moisten the cullet, which in turn prevents small particles from blowing onto the furnace wall.
In order to provide the best solution, HAL's cullet blowers come in two forms, depending on the furnace and doghouse type. One is a water cooled box pattern, that enters the furnace from under the charging arch, and the other is a shorter, single skin hot air unit, attached directly to the outlet of a service burner. Precision is achieved through these processes by controlling the cullet flow and direction for a wider distribution over the hearth area. Ideally, the cullet formed after HAL's Tapping / Draining operation makes its way back into the furnace through controlled and accurate blowing.
Success can only be achieved through constant and careful monitoring throughout the operation, with an added focus on the throat and riser, especially in situations where electrical backup heat is unavailable. Special circumstances call for the provision of a temporary bubbler in the throat and riser, to steer clear from any possibility of freezing glass in these areas.